Daniel Pešta was born in 1959 in Prague. A graduate of the Václav Hollar School of Art, he spent the totalitarian years existing outside of official cultural circles. His primary focus was on drawings, and he worked as a graphic artist. After 1989, he designed numerous series of illustrations for a classical music publisher, and won numerous awards for his book and poster work.
In the 1980s and '90s, Pešta began applying his poster design techniques – which had always balanced on the boundary to painting – to non-commissioned work. Since the very beginning, he has been working to further develop his artistic style.
At first, he studied the figure and gave shape to its vulnerability. Later, he worked with portraits in which he focused primarily on expression. Over time, his works became more abstract; he reduced their colors and began to approach the essence of his visual style, which exists fully outside of contemporary influences.
After returning from his first study trip to New York in 1998, he begins to experiment with a diverse range of materials such as paper, wax, leather, and transparent resin. Such tactile material enabled him to penetrate even deeper into the complicated nature of the human soul. These works balance on the boundary of naturalist rawness; they touch on the most sensitive subjects such as the birth of life and its destruction – they get to the core of human essence. These attributes wind their way through his work to this day, and have become one of Pešta's distinctive attributes.
Another typical feature of Pešta's works, and one that permeates all his work, is the symbol of red string or red thread, painted in the color of blood. The string symbolizes the inevitability of fate, but also the never-ending story of the human race. It tangles, stitches, and perforates the fragile existence of the individual. Into the transparent resin, he seals the stories of entire generations, which he seeks out in period photographs. He creates large-scale "genetic codes" and series of "dark assemblages" on the subject of injustice and loss of dignity. He uncompromisingly seals his older pictures or objects into resin in strict blocks and columns, thus relativizing the meaning of art itself but paradoxically also opening up other possibilities for visual expression. Pešta gradually transforms the portrait into a mask-like expression, which he views as a symbol of affectation and anonymity. For Pešta, the mask becomes the central motif in his conceptual projects as well as in his original works of video art. His videos speak in a clear language, without supplementary historical information. In terms of subject matter, Pešta's work frequently touches on political or social issues. He also deals with thematic of his own dreams that we carefully records, but always remains visually concrete. His works' genesis is subject to meticulous preparations, and often their final form is the result of years of effort.
Daniel Pešta is what is called a multimedia artist. He refuses to limit himself to just one medium, but steadfastly experiments across the full spectrum of expressive tools, through which all our senses come together.
Read more ›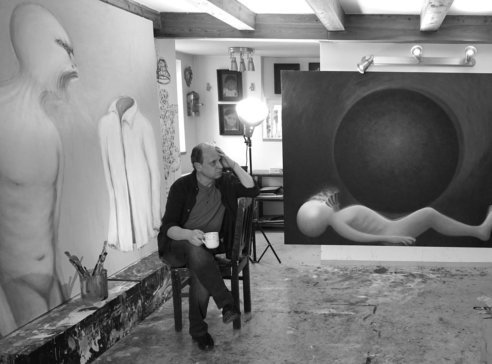 Realised Exhibitions
SOLO EXHIBITIONS (SELECTION)
2019    ExCitace, Church of the Finding of the True Cross in Litomyšl
2019    I'm your Mother, Artinbox Gallery, Prague
2018    DeTermination, DOX
2017    GEN Y!, White Gallery, Litomyšl
2017    School, Artinbox
2016    Nocturnal Head Records, White Gallery, Litomyšl
2015    Brave new world, DOX
2015    Art Biennale, Palazzo Bembo, (Personal Structures), Venice
2014    I was born in your bed, Litomyšl
2013    I was born in your bed, Sala del Camino, Venice, Italy
2013    Art in catastrophe, Deutscher Bundestag, Berlin, Germany
2012    On Another Planet (In the name of love..), Artinbox, Prague, Czech Rep. (with Suzanne Pastor)
2012    Gravitation Zero, Art Museum, Solingen, Germany
2011    Levitation, Felix Nussbaum House Museum of Modern Art, Osnabrück, Germany
2010    Levitation, Museum Montanelli, Prague, Czech Rep.
2010    Galerie Maier-Hahn, Düsseldorf, Germany
2007    Sweet Home, Acropolis, Prague, Czech Rep.
2005    Hot Doks2, Galerie Palais am Festungsgraben, Berlin, Germany (with Václav Bláha)
2005    Hot Doks1, Kunsthalle, Frankfurt am Main, Germany (with Václav Bláha)
2002    Prague, Critics' Gallery (Galerie Kritiků), White Zone
2000    Montserrat Gallery, New York, USA
1998    Montserrat Gallery, New York, USA
1993    Karolinum, Prague, Czech Rep.
JOINT EXHIBITIONS (SELECTION)
2020    Seychelles Biennale 2020, Lost-Found, Eden Plaza
2019    Top Secret, Personal Structures, Art Biennale, Venice
2018    Bild Macht Religion, Museum Bochum
2017    Art Biennale, Palazzo Mora, Venice
2017    London Art Biennale
2016    It's Liquid Experimental Art Architecture and Design Festival, BAU International Academy, Rome
2016    Eurasian Film Festival, Czech Center New York
2016    Self Identities, Laura Haber Gallery, Buenos Aires
2015    Liquid Cities, New York
2015    Hybrid Effects, Palazzo Radetzky, Milan
2015    London Biennale 2015
2014    Venice, Morphos, Sustainable Empire, Puzzels, Palazzo Albrizzi
2014    Now & After, videoart festival, Alexandrinsky Theater in St.Petersburg
2014    Regensburg, Gegenüberstellung (with Markus Lüpertz, Dorota Nieznalska, etc.)
2014    Buenos Aires, Pixels of Identities, Galeria de Arte Laura Haber
2014    Now&After Video Art Festival, Moscow
2014    Genes and Generation, Artinbox Gallery, Prague,
2013    Liquid Borders | Bari 2013, Italy
2013    Where is my home?, DOX, Prague, Czech Rep.
2013    Who lies also steals (Kdo lže, ten krade),  Artinbox, Prague, Czech Rep.
2013    London Art Biennale, London, UK
2013    blinkvideo.de
2012    It's Liquid Identities. Videoart Festival, Venice, Italy
2012    Turn On, Tune In, Factory Art Gallery, Berlin, Germany
2011    The Art of Giving Birth, Artinbox, Prague, Czech Rep.
2010    Francisco de Goya – Vision of Symptoms and Hope, Solingen Museum, Germany
2009    Prague Biennale 4, Czech Rep.
2007    Prague Biennale 3, Czech Rep
AWARDS
2019    London Art Biennale, 2nd prize awarded in category Painting
2017    London Art Biennale, 2nd prize awarded in category Painting
2014    Now & After, Gulag Muzeum, Moscow (I was born in your bed), Honorable Jury Mention
2009    The Most Beautiful Book of the Year, nomination in the catalogue category, Prague
2002    The Most Beautiful Book of the Year, prize awarded in the bibliophille category, Prague
2001    Florence Biennale 3, prize awarded in the new media category
1990    Mexico City Biennale 1, prize awarded in the Political Poster category
REPRESENTATION IN COLLECTIONS (SELECTION)
DOX, Centrum for contemporary Prague
Městská Galerie Litomyšl
Santa Fé, Minnete Colection
Nadace Vize Václava a Dagmar Havlových
University of British Columbia, Vancouver
Felix Nussbaum House Museum of Modern Art, Osnabrück, Germany
Art Museum Solingen, Collection of Persecuted Art, Solingen, Germany
MuMo, Museum Montanelli, Prague, Czech Republic
Michael Hayden collection, Geelong, Australia
Museum F. (Statues for a Baroque Niche, Klatovy, Czech Republic
National Museum of Posters, Mexico City
Muzeum romské kultury, Brno
PUBLICATIONS
2019    En Bloc
2018    DeTermination
2010    Daniel Pešta / Levitation
2006    Daniel Pešta / Sweet Home